I haven't done too much recently, and I have added notes to a few things to update them.
Sorry this is a bit messy and not formatted too well, I'm not too good at it.
For the past six years, I've been restoring a 1978 Ford Mustang II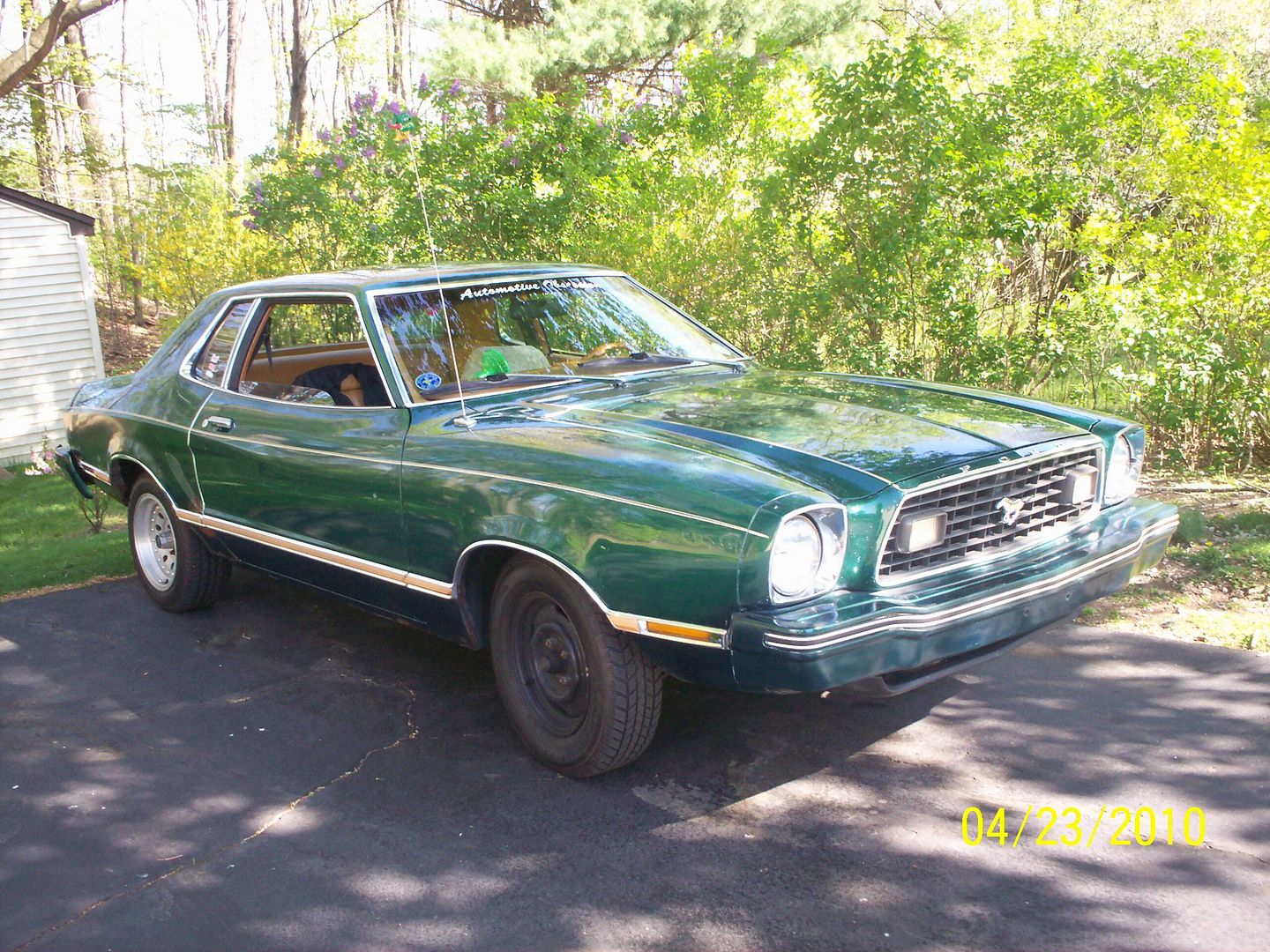 Engine:
So far, the engine has been rebuilt, It is a Ford 2.3 Bored at least .20 over, and as far as .60 over (can't get a straight answer from the machine shop, or the installer, and there are complicated circumstances surrounding the motor) I've installed a Holley 4160 Carburetor with 14" offset Summit Racing air cleaner and reusable filter, Offenhauser 4bbl intake, upgraded to a ranger roller cam, MSD ignition coil, added a Hedman Hedder, done the exhaust (2 1/4", with Flowtech Warlock muffler) (though after three New England winters it needs to be done again)
Update Jan 2014
: Muffler pictured below was installed May 2010 and the exhaust was replaced in aug 2011, while retaining the same muffler]
Update Aug 2015
Current engine specs are as follows: ford 2.3, block bored .050 or 060 over, Holley 390CFM carb, Offenhauser dual port 4bbl intake, Boport stage 1.5 cam (no exact duration specs available but it is .436 lift, rpm range 3000 to 6500+) iron head with "big" 1.89" intake and 1.59 exhaust valves with double springs and a little smoothing done in the runners as well as unshrouding the valves. Exhaust ports are bored out from the bottom up to 1 5/16" . The header is from Speedway motors and has 1 5/8" to 1 3/4" stepped primaries into a 3" collector that is reduced down to 2 1/2" all the way to the muffler.
Ignition is an MSD 40th anniversary 6AL box with 7000RPM rev limit, with Pro Billet distributor set at 18* initial and 36* total. Light blue advance springs for all timing in by 3000 RPM. Spark plug gap is set at .040.
It also has a few Esslinger goodies: Adjustable cam gear, Heavy duty timing belt tensioner, billet steel intermediate shaft, and bronze distributor gear. It has a newer radiator and master cylinder, along with most of the brake lines replaced.
I have one of the chrome Ford Racing valve covers on it.
I plan on adding an MSD box at some point, but I cant have it all right now.
[
Update Jan 2012
: I purchased a MSD 6AL box in July 2011 but have not installed it yet]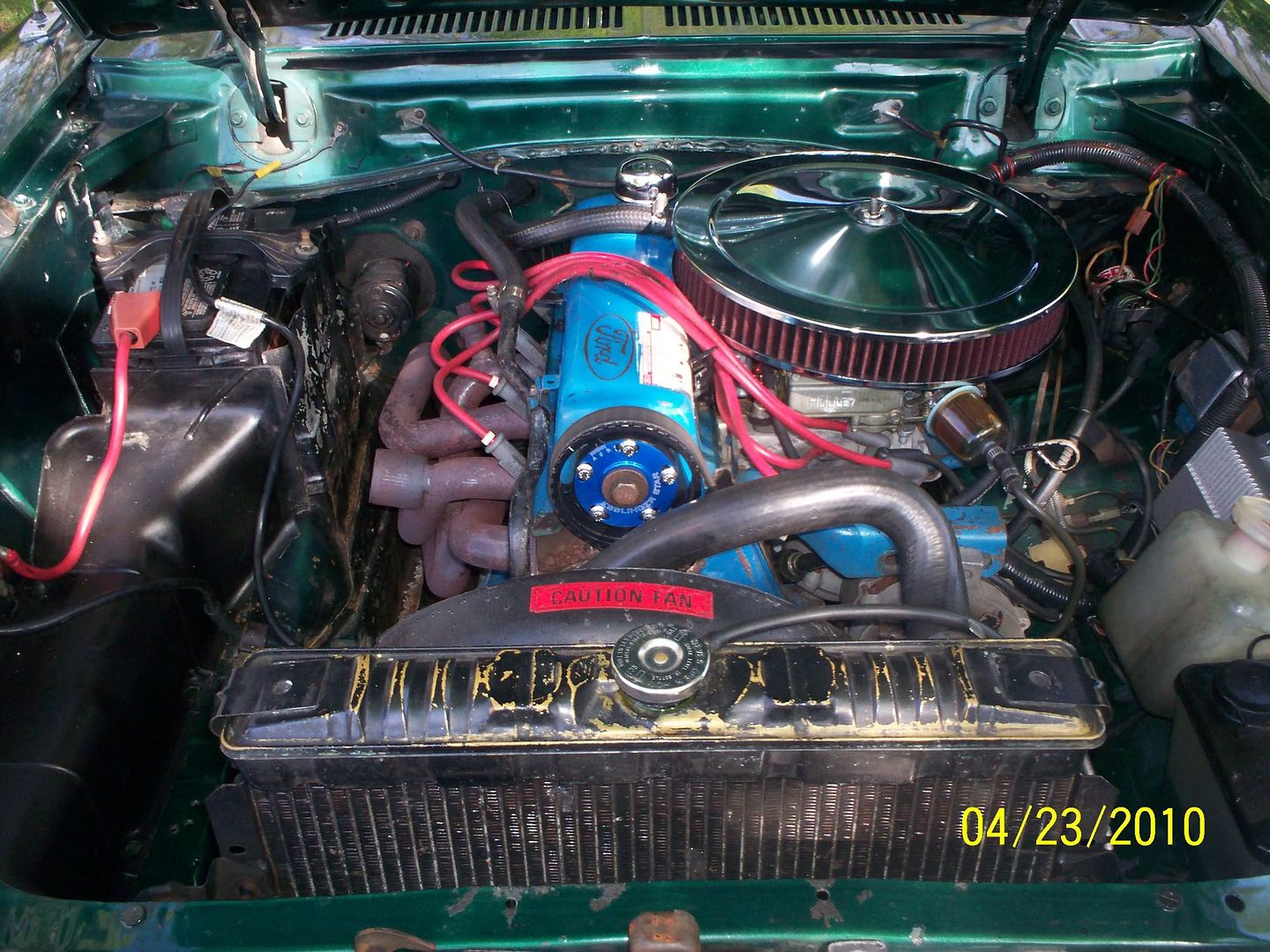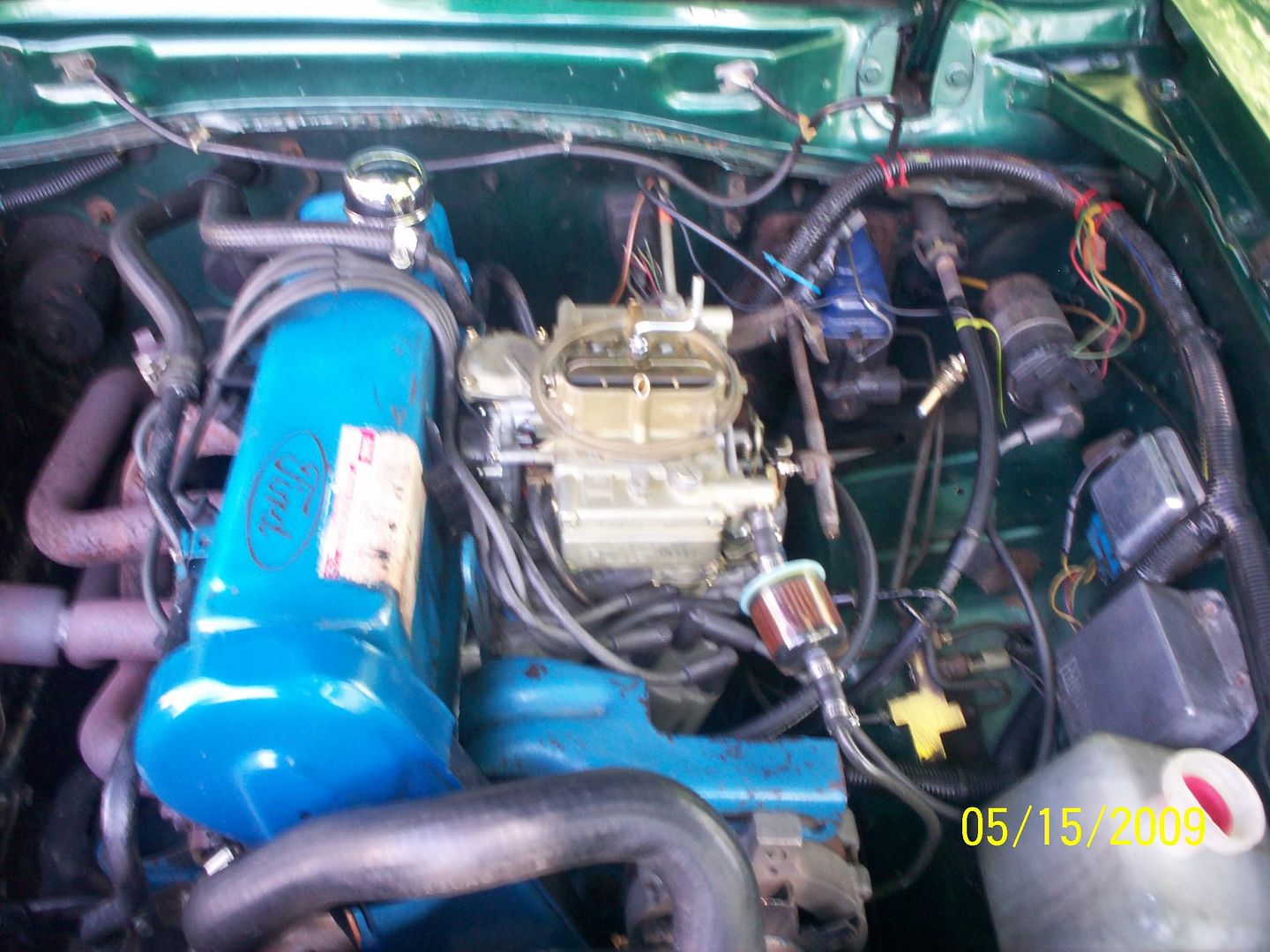 I have a ported head with big valves to go on as a side project as the price I got was too good to pass up. All it needs is a cam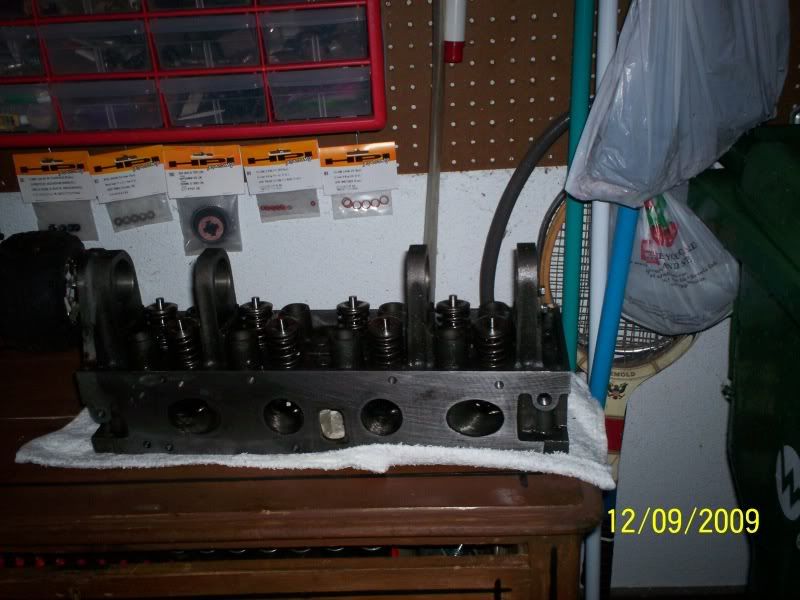 [
Update Jan 2012
: Back from machine shop Jan 2011; details in thread. Still not installed]
I've got a new Warlock ready to go on freshly painted with high heat copper paint to try to keep it from rusting as fast.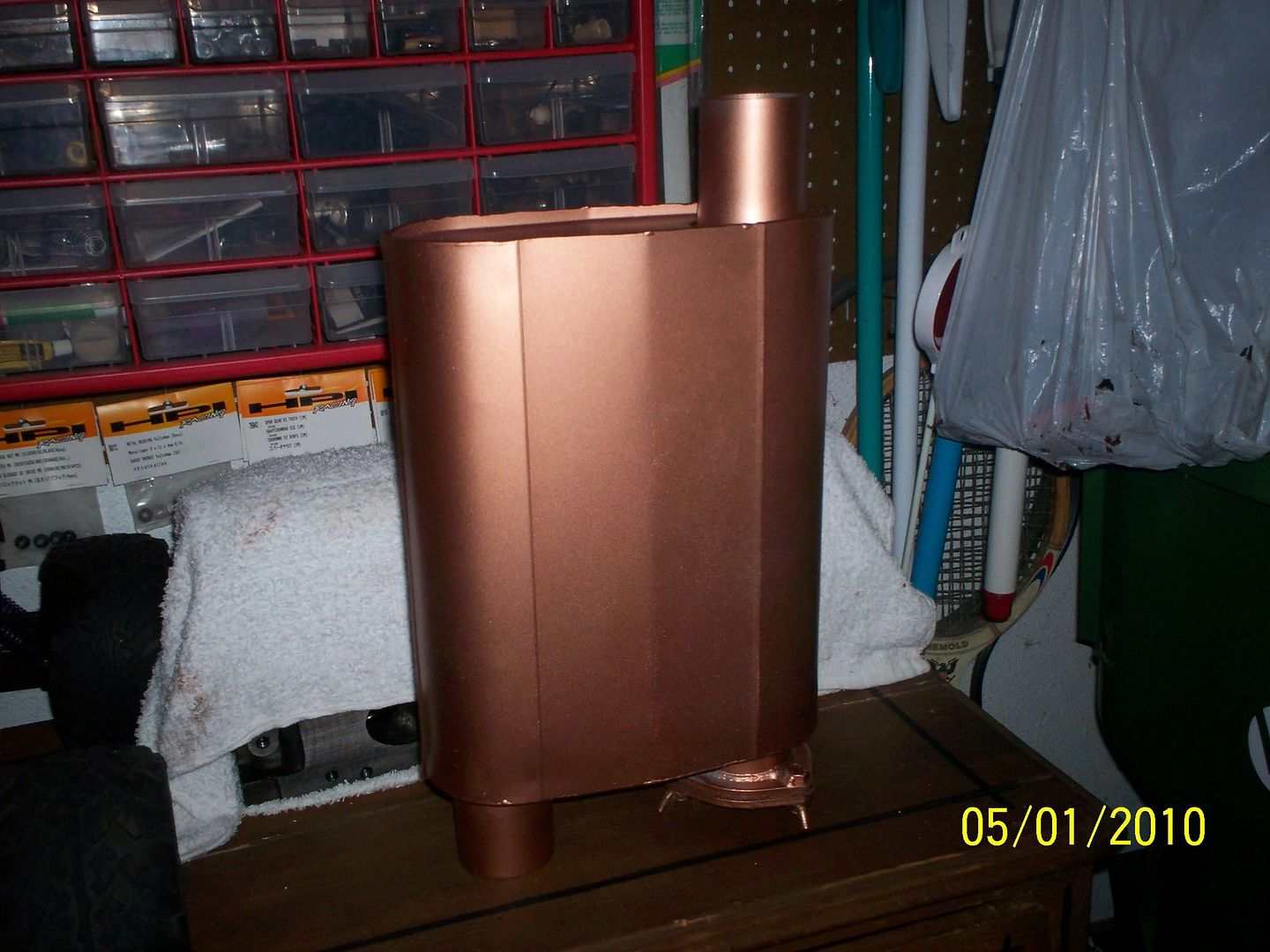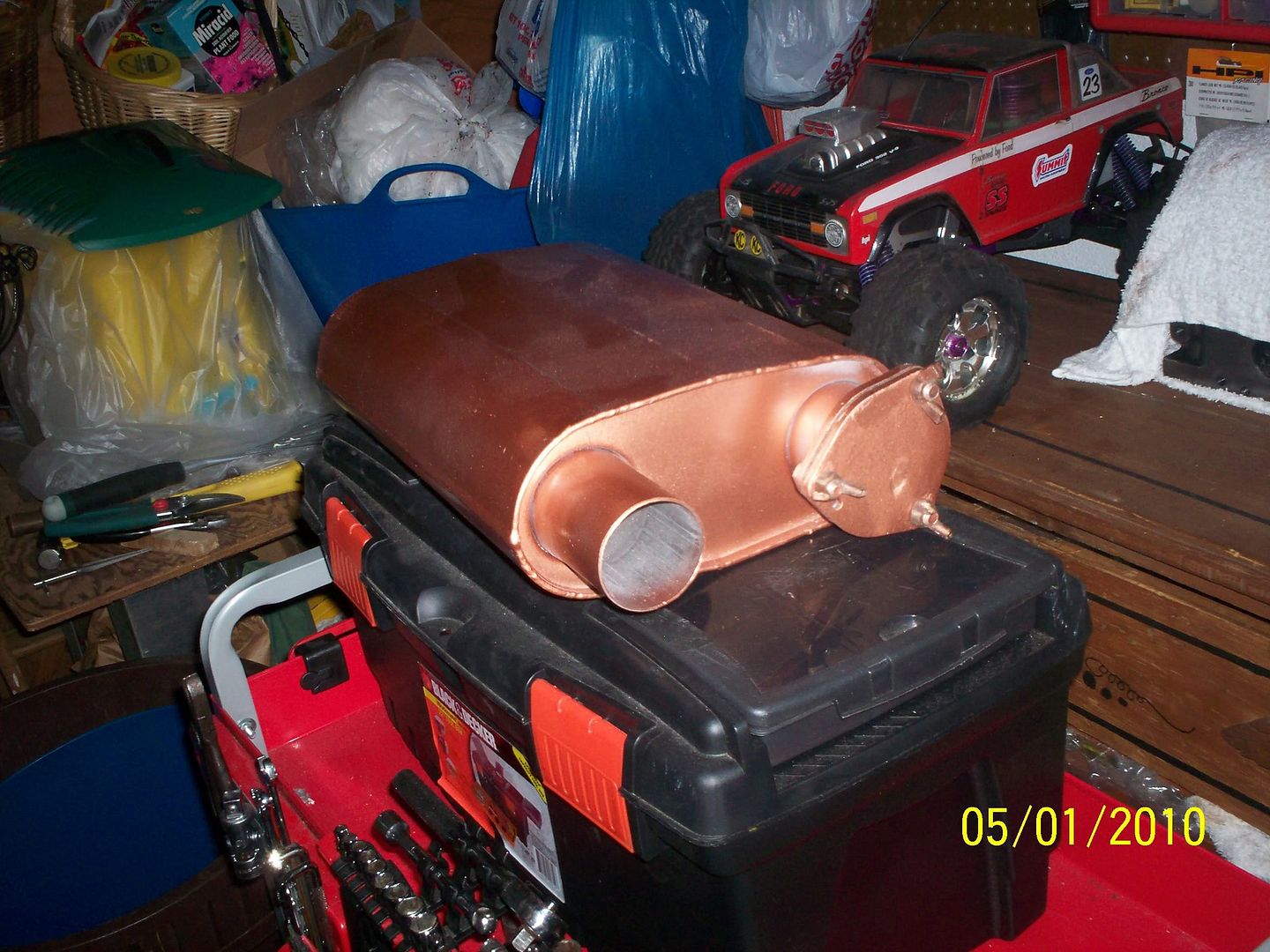 Interior:
I'm keeping the interior pretty much stock except for a decent sound system and a set of Summit oil pressure and water temp gauges. I plan on changing the head unit at some point to a stock appearing in dash unit as the current system has a dead CD player and no MP3 connectivity, along with me wanting to mount the mint vintage emergency scanner I picked up at a yard sale in its place.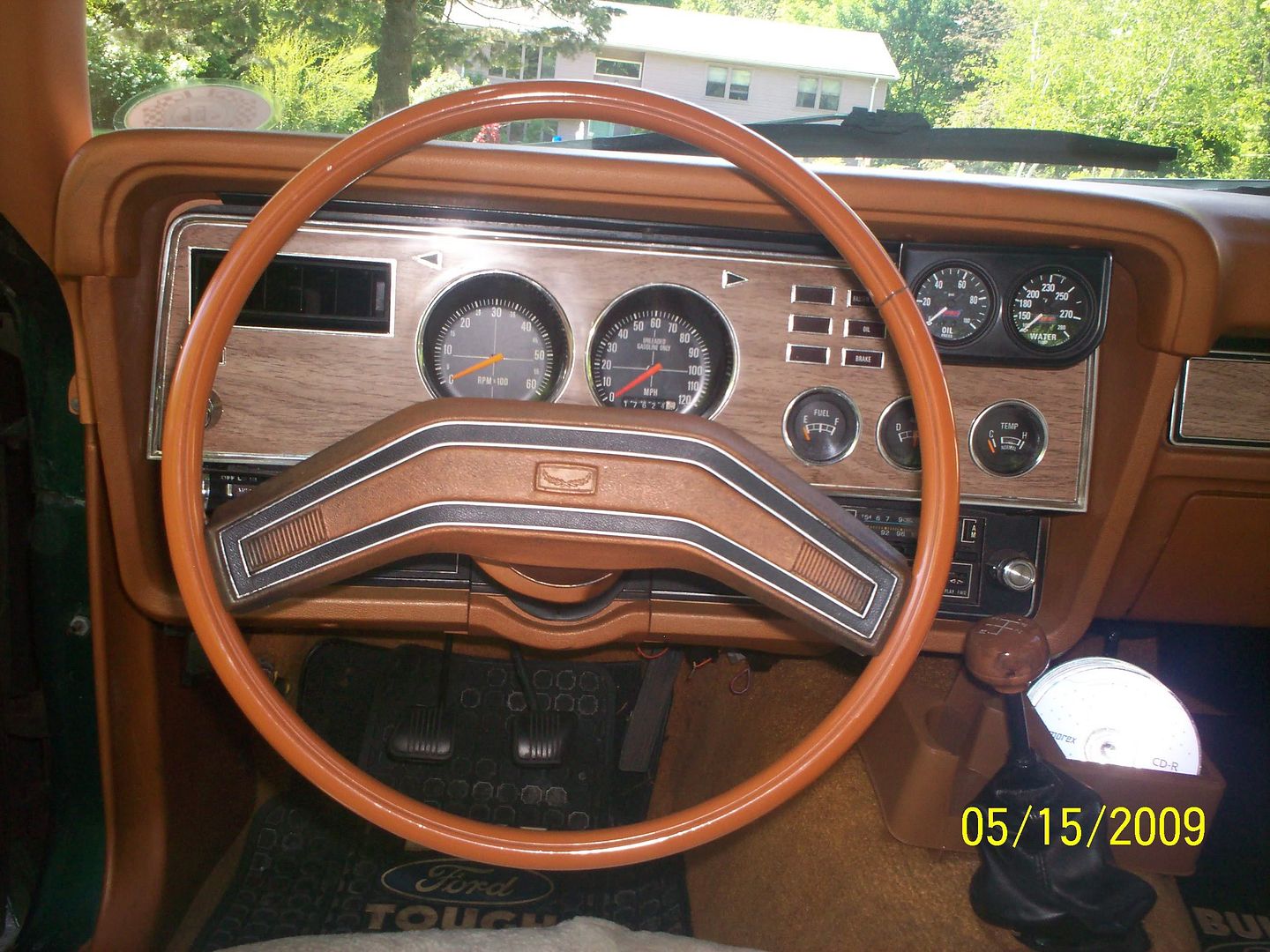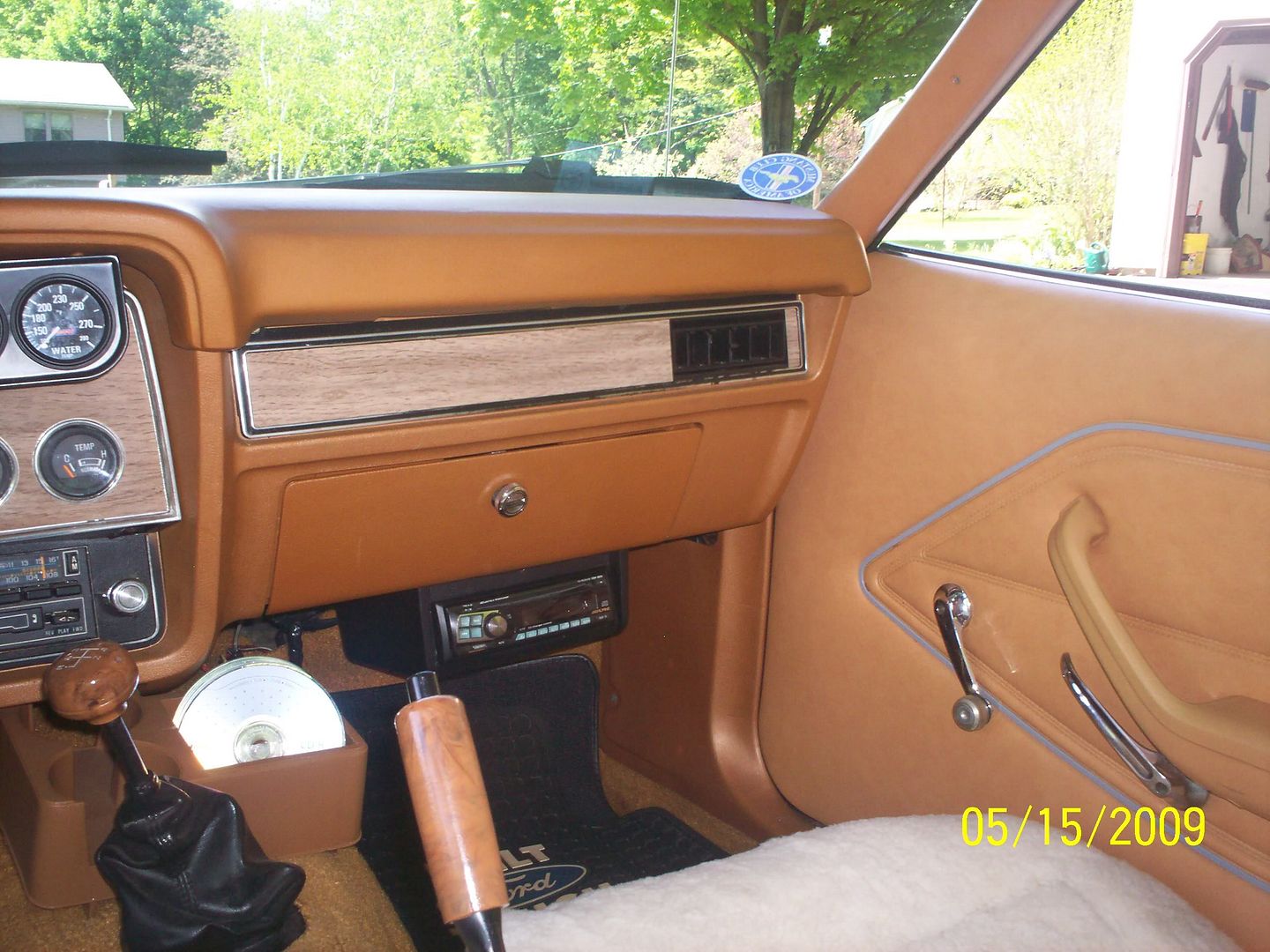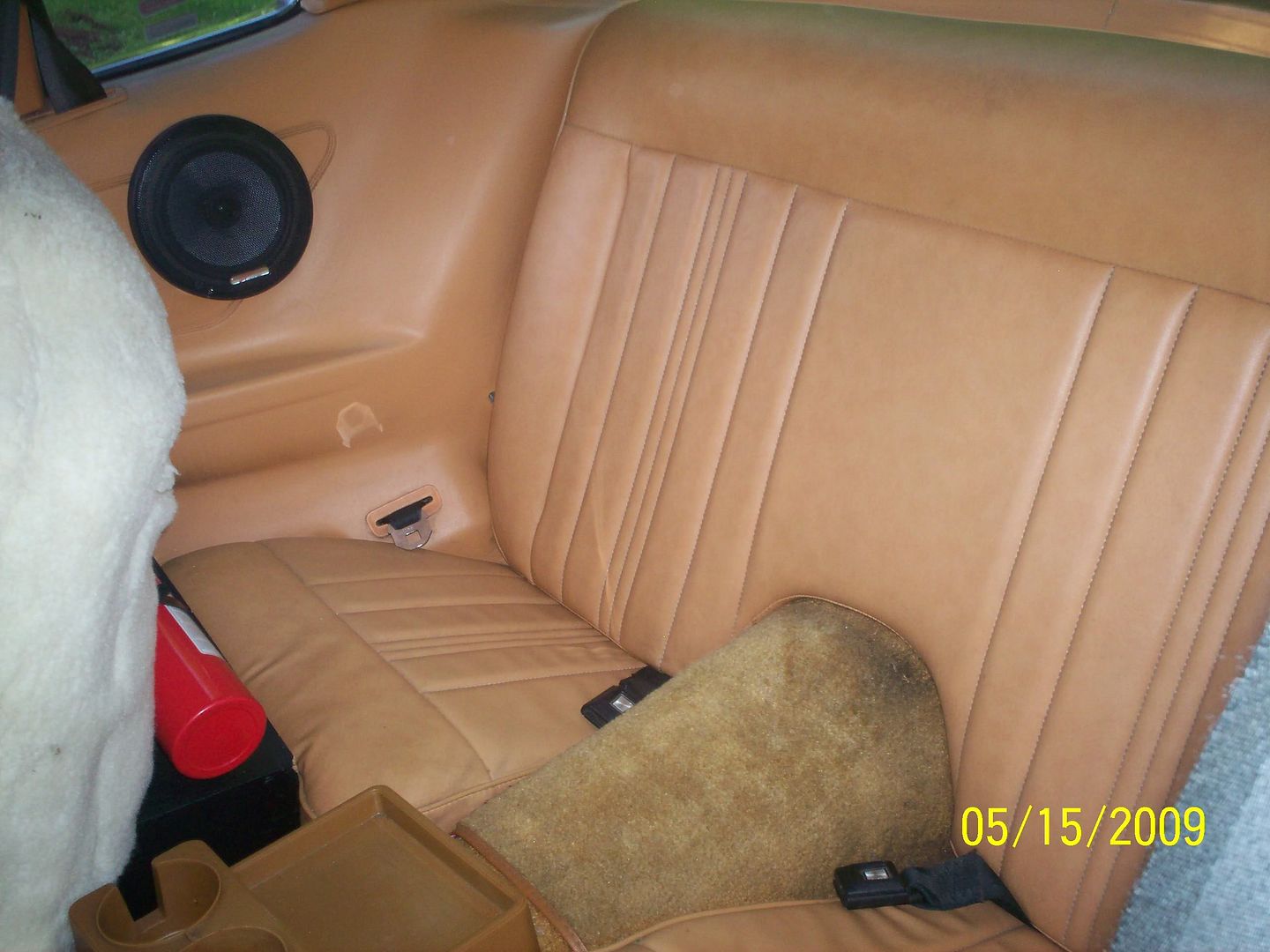 [
Update Jan 2012
: I installed a Cobra CB radio in July 2011. I am still running the bad head unit. The emergency scanner currently resides in the glovebox]
Body:
The body is in pretty poor shape, with large holes in the quarter panels, and lots of rust poking through in various areas, including a couple spots in the floorboards around the outer drivers and passenger side seat mount holes, and one on the passenger side up near the firewall. I have a new floorboard panel for the drivers side, but haven't ordered one for the passenger side yet.
I was also lucky enough to get my hands on an NOS quarter panel for the passenger side, but have had no luck on the drivers side.
A few detailed (but dated) pics here. The body is much worse now.
http://s86.photobucket.com/albums/k113/Mark_Taylor87/Car%20Pictures/Tech/Body/
The rear bumper was trashed from an accident, but I was able to get another bumper from a friend of mine so I painted it and installed it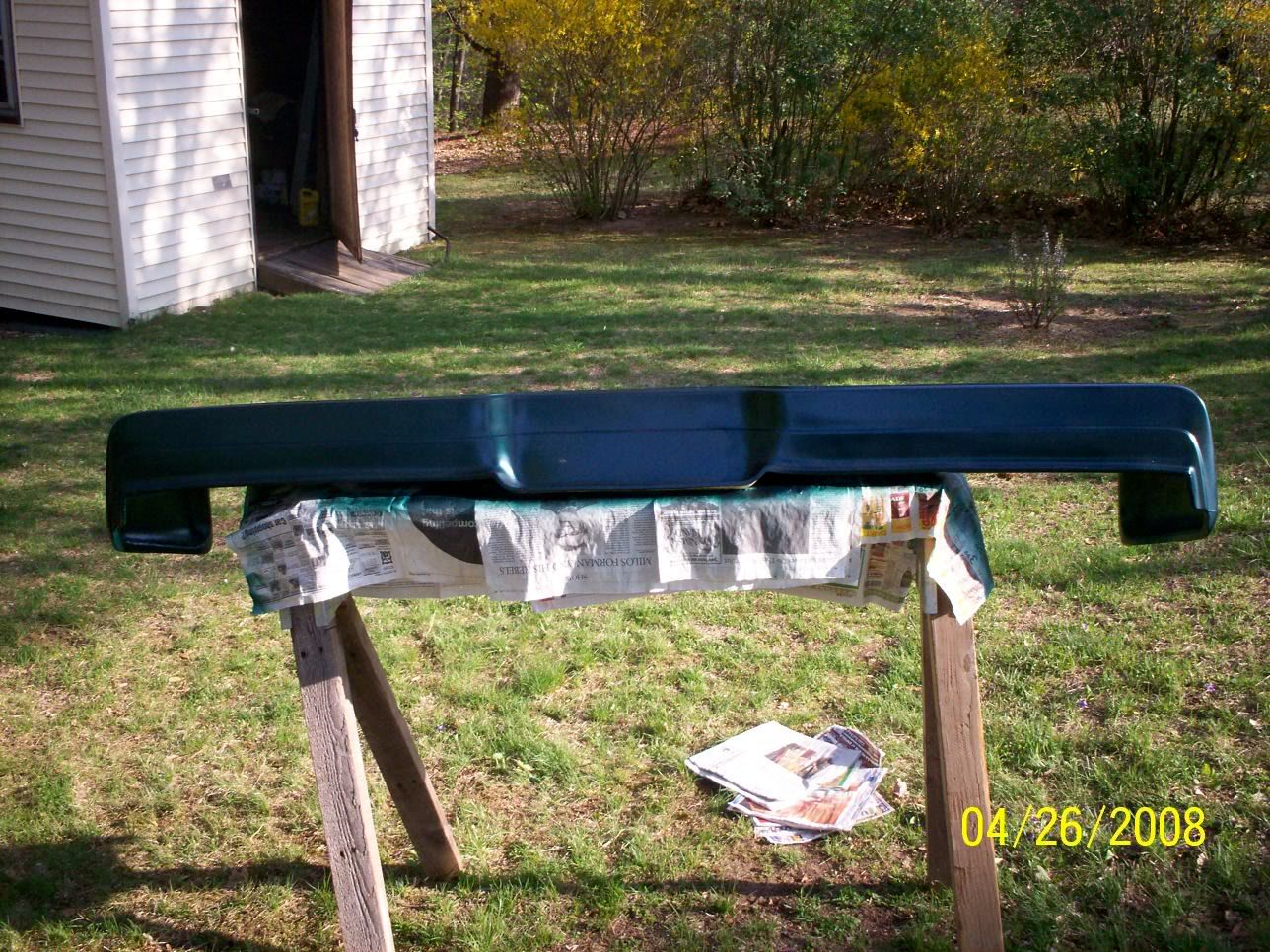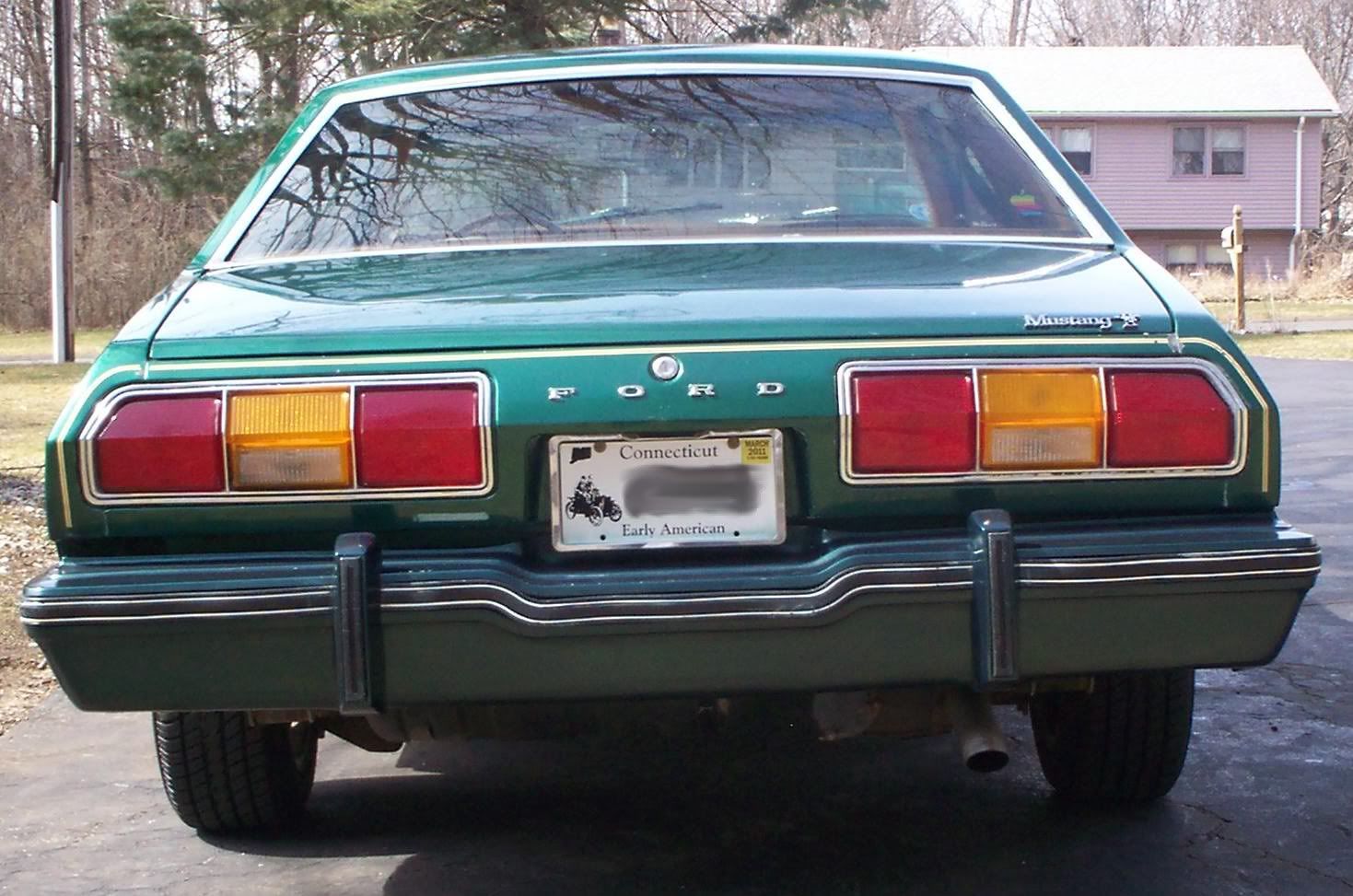 [
Update Jan 2012
: I have floorpans For the drivers side and passenger side. The drivers side was done in mid 2011 sometime, but the passenger side still needs to be done.]
Chassis and Suspension:
The rear suspension has been replaced. New shocks, leaf springs and shackles, However the rear bumper mounts are rotting away and I haven't been able to track down a set yet.
The front end is in poor shape, but I've ordered new upper and lower arms, tie rod ends, bushings, springs and spring cushions, and sway bar end links from Speedway Motors. I got part of the shipment, but some of the parts were out of stock, so I'm still currently waiting on them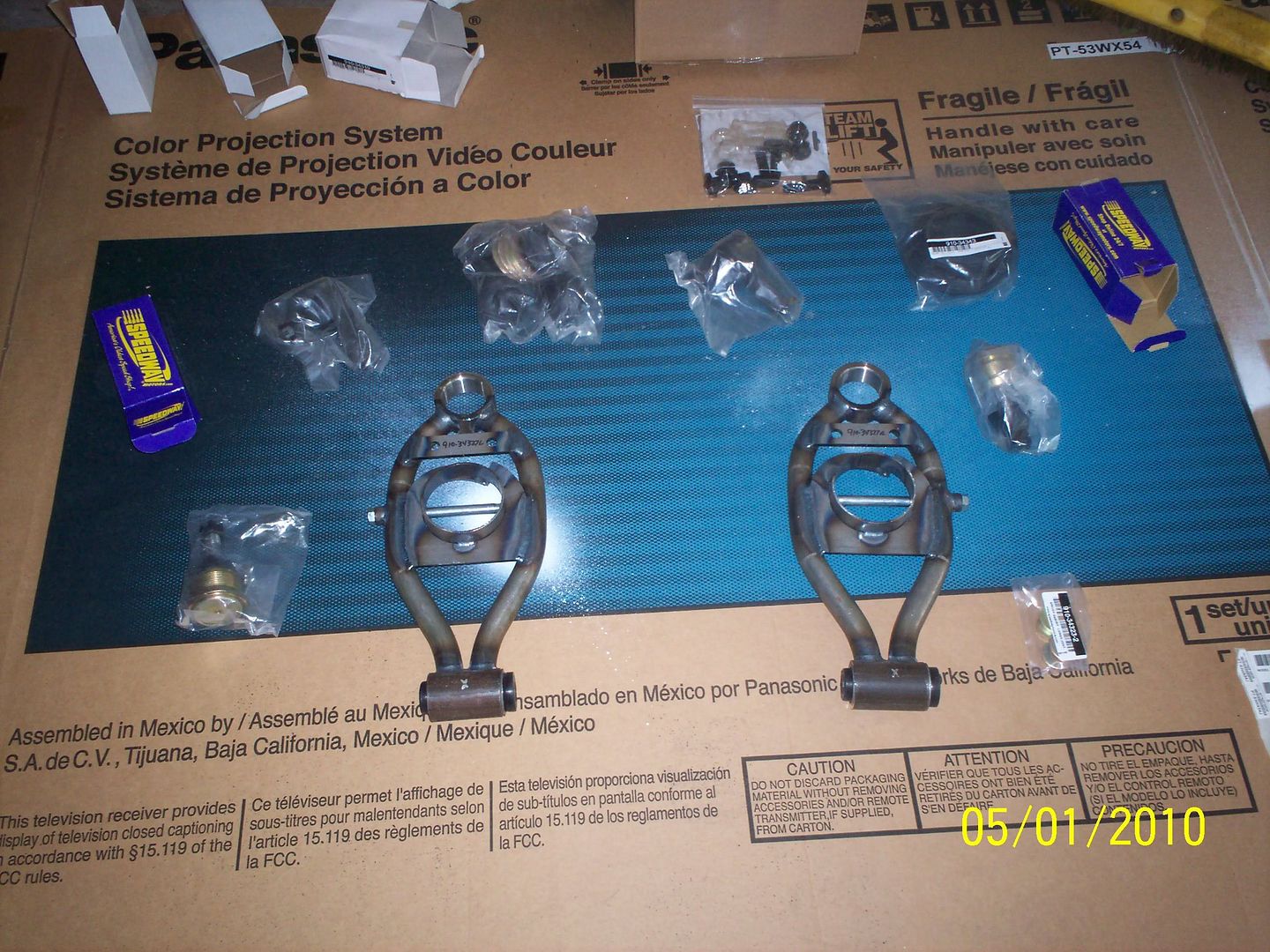 [
Update Jan 2012
: The front suspension has been installed after the catastrophic failure of a suspension arm (details below) in Aug 2011.]
Wheels and Tires
I Have American racing Outlaw II Wheels in the back with Cooper Cobra GT tires in 195/60R14. The fronts are still my snow tires and they are 185/70R14s and are really ugly. I have another pair of the Outlaw wheels I plan on wrapping in 225/60R14s and putting on the rear while swapping the 195s to the front.
[
Update Jan 2012
: The car currently has Cooper Cobras in 235/60R14 in the rear, and 195/70R14s in the front as shown below.
That's about it for now, but I will try to update this thread as I go along (slowly), and I will try to update this first post with any significant changes when needed.
(previous most recent post)
The new muffler has been installed, and I got my new tires and wheels on. I just fixed (hopefully) an issue with my taillight harness, and I'm currently trying to figure out a coolant consumption problem. If it turns out to be the headgasket, the ported head may be going on sooner then I thought. I guess its off to the machine shop to get the head checked and cleaned sometime in the next week or so, along with ordering the cam and roller followers.
I also ordered a few pairs of Holley jets so I can try to do a little more carburetor tuning at some point. The upper suspension arms came the other day and all I need is the sway bar end links, the springs, and the shocks. I'm going to paint the suspension arms with rustoleum of an undetermined color (probably black) so they don't rust out.
(
current/new content
)
I've spent a about a year and a half trying different timing settings, different jetting, and different secondary springs. I finally found that 15* inital timing (with the weights flipped in the dizzy weights to the 10R slot :thumbsup:) the Stock (6299-1) #50 jets and the plain secondary spring seem to run the best for my current setup. The coolant consumption issue was a heater hose that was a little loose and was leaking when the engine was hot.
Other then that, I REALLY need to get the body work done, and eventually the head swap. The only thing really holding me up is money and the time to get things done right.