Hey guys, I thought I would create a thread about my upcoming marathon on the 26th of May in Edinburgh. I am going as part of a team of 12 from my university in London, and about 6 of us are doing the full marathon while the others are doing the half marathon. So we're going to spend the 3 days up there which is going to be great as we get to have a look at Edinburgh, not just go up there to run. I have no other reason to do this than to tick something that I've wanted to do for a while and look on it as an achievement that when I am older i can look back it fondly. After all, I am 21 so I am in the prime of my life so I need to get all of this stuff out of the way. Maybe next year I will do a triathlon too, as I have been brought up with swimming and I will be already fit enough with the running side of things. This is firstly to share my experiences of preparing for it and ultimately completing so I will be providing running commentary and any tips that I can give to people who wish to do one too. Any advice for me would be amazing too!
Equipment
Shoes are Adidas Supernova Sequence 4
Now, I would consider this an expensive pair of shoes for me as they are 60 quid or more. This is one of the most important purchases you will make, as buy buying an expensive pair of shoes you will drastically reduce the chance of injury from running. Shin Splints are not funny, neither is many other injuries that you can get because the trainers that you have worn do not absorb the shock and impact of the ground that you are running on. For goodness sake, get a good pair of trainers. Don't use a worn or old pair, and replace your trainers after 300-500 miles.
While we're talking about shoes, I may as well move on to running socks. It is important to get running socks as they will prevent blisters from accumulating, wick away the sweat so that it does not build up, and also they are breathable so your feat won't get hot. Blisters are a pain in the backside, so please get a decent pair of running socks and you will be trouble free.
I have running shorts, and also running trousers which are light and made of synthetic material. If they are made of synthetic material, they won't absorb the rain and thus makes it easier to run. Also, they help wick away the sweat.
Smartphone or Nike running band. I have an Android phone that uses an application called Strava Run. Strava Run: This app is amazing as it records the Calories, Average Pace, Moving time, Distance and Elevation of your run. It records your route, and also breaks information down kilometer by kilometer. Really awesome, if your running any distance then this is an absolute must. You just put it in an running armband (which only costs a couple of quid) and off you go! Whatever you do, don't get the Nike Running arm band as it's only meant for the Apple Iphone and thus isn't big enough for the any phone above 4 inches in screen size. I'll post the one that I have soon.
Plan
I have logged into a website called ASICS which is a maker of running shoes. They allow you to create a personalized running plan for yourself, up to the point of the marathon. I'll find a way of putting my plan up, but it is perfect in that you can follow the plan very precisely using Strava to make sure that you run at the pace that it tells you. The website is telling me that if I follow the plan I will complete it in around 3:30, however I do think that as ambitious. I aim to definitely do it under 4 hours and anything under that is a bonus. I run 3 times a week, at the moment I am doing 9 kilometer per run at an average pace of 6:16 minutes per kilometer.
This is the first couple of weeks of my plan: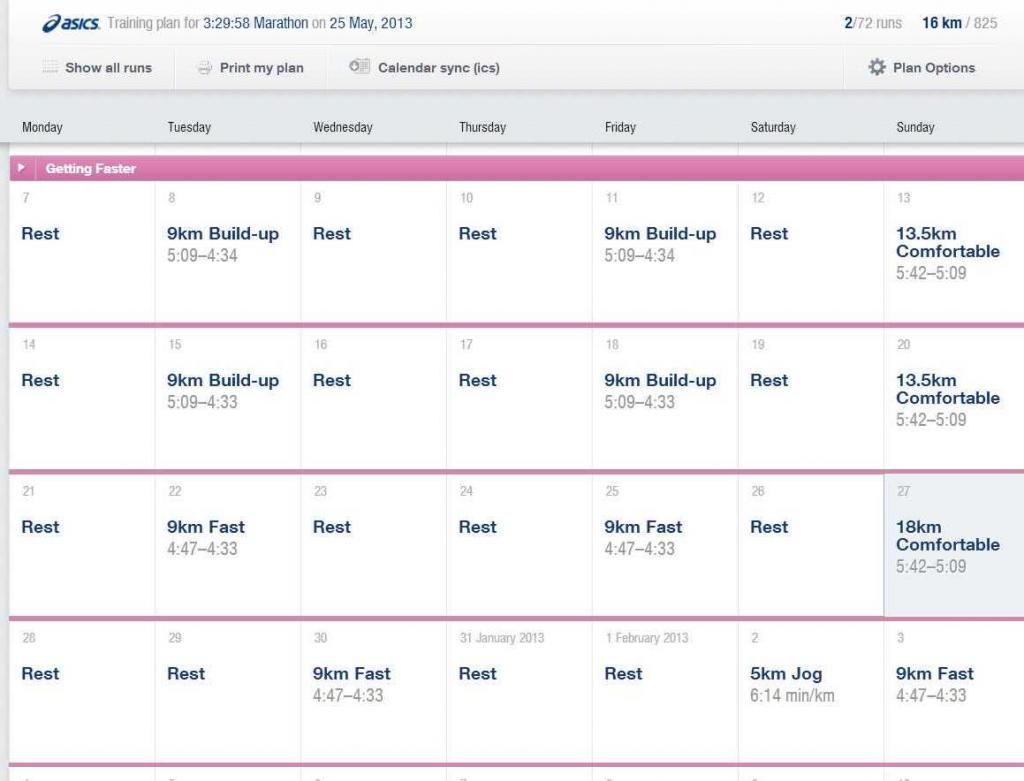 My first run is:
http://app.strava.com/activities/34257451